Careers
Building connections that matter.
We are Comtech
We believe that the future of connectivity is limited only by our imagination, and we are dedicated to building the technologies that make that future a reality.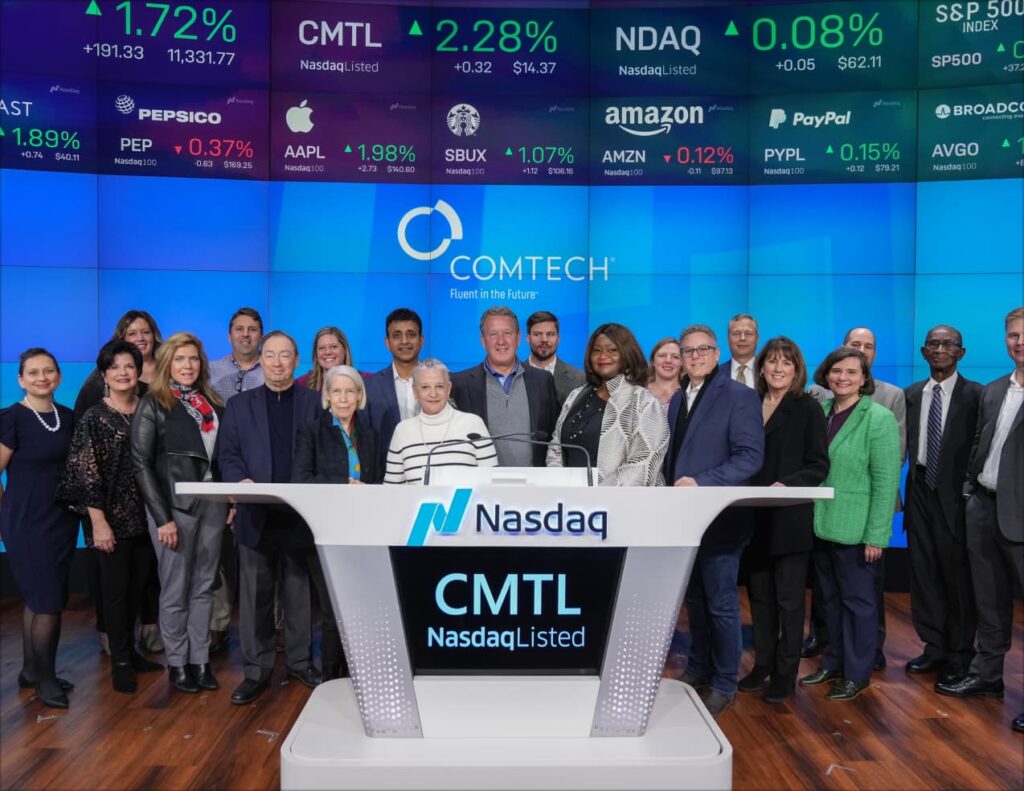 Our culture
At Comtech, you'll work alongside some of the smartest minds in our industry. We set each other up for success and operate as one team, where all voices are heard and perspectives are appreciated and encouraged.
Benefits & Perks
We go beyond the usual benefits, offering perks and programs our team loves.
Financial
Competitive Compensation
In addition to competitive salaries, Comtech offers all employees participation in our 401(k) plan immediately after hire, including an aggressive match. We believe it is never too early or late to invest in your retirement and we support all employees in their path to retirement.
Employee Stock Purchase Program
As a public company, Comtech also offers an Employee Stock Purchase Plan, that provides employees the ability to purchase stocks at a discounted price, so they can choose to invest in the company that they work hard for every day. We support our employees overall financial health and work hard in providing several options to reach their financial goals.
Profit Sharing
All Comtech employees are eligible to earn bonuses based on company profitability at the end of each fiscal year. We believe in rewarding employees for their hard work and dedication.
Health & Wellness
Comtech offers several medical plan options for all full-time employees and their families so that they can select the best choice for their wellness needs. Additionally, we offer a dental plan, vision plan, Health Savings Account (subsidized by Comtech for high deductible plans), Flexible Spending Account, and voluntary wellness plans (hospitalization and critical illness plans).
All full-time employees receive paid group term life insurance and short-term disability. Additionally, enrollment in long-term disability supplementary term life insurance is available for employees and their families. is some content.
Perks
Comtech knows our employees go above and beyond in their commitment. In order to provide as many perks as possible, we offer free beverages and snacks throughout the work day.
We know that employees have commitments outside of work and flexibility is important. We encourage employees to spend time with their families and offer flexible schedules if needed. Employees also are eligible for paid time off including holidays, sick, personal and vacation time.
We have a strict dress code policy – no suits! All kidding aside, suits may sometimes be appropriate for customer meetings. However, we encourage our employees to dress professionally, but also be comfortable. Jeans are appropriate and encouraged.
Belonging
Comtech supports, celebrates, values, and welcomes diversity and is continuously striving to become a more welcoming environment for people of all backgrounds. In this spirit, we recognize various holidays and accomplishments of different ethnic, religious and diverse groups throughout the year. We take steps to promote a diverse culture in our workplace that reinforces we provide a safe place to be yourself. Belonging is important and also required of a successful organization with employees who are happy in their work environment. We reinforce this belief in our Standards of Business Conduct.