Background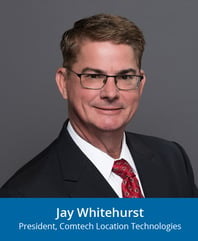 In the beginning of the mobile era, Mobile Network Operators (MNOs) needed to know the position of the mobile device in order to route the call to a specific base station to which the device was connected.
In 1999, US regulatory authorities mandated high accuracy positioning requirements to facilitate emergency services. Since then, each successive generation of cellular technology has expanded and evolved to provide precise location with different combinations of MNO's fixed and mobile infrastructure along with external sources like Global Positioning System (GPS) and Wi-Fi. However, at the base level the primary use case has always been to locate the distressed caller during emergency.
"Public Safety Answering Points (PSAPs) have the opportunity to connect with other technologies like Devices/Sensors, Smart Cities, Vehicle Telematics, and automated alarms."

APCO Project 43: "Broadband Implications for Public Safety
A New Demand
The need for high speed connectivity is now coupled with the need of high accuracy positioning. Coupled with that is the rapid penetration of Internet of Things (IoT), devices/sensors which are not only able to provide data but also location information. MNOs thus are challenged to provide not only highly precise location for emergency services, but also disrupt and monetize their enterprise markets with innovative Location Based Services.
5G inherently is a service-based architecture aimed to provide services based on a user's need. The technology provides low latency connectivity to the plethora of devices/sensors which have entered our ecosystem today. This opens the door to improve upon the existing Public Safety application and introduce new Location Based Services with both Absolute and Relative Positioning with a measure of confidence.
Technology Advantage with 5G
Traditionally, 4G LTE systems use uplink and downlink signals to determine the position of end devices to determine their position relative to mobile network antennas. Typical procedures are Enhanced Cell ID (E-CID) and Time Difference of Arrival (TDoA).
In E-CID, end devices monitor their proximity to multiple base stations, measuring signal strength and approximate propagation time to the device. By combining these observations, a better estimate of device position is calculated.
TDoA is a multi-lateration method in which the end device measures the time difference between some specific signals from several base stations and reports these time differences to a specific device in the network to determine the position.
To meet the communication requirements (higher speed, low latency, more devices, IoT connectivity), 5G networks will operate with wider bandwidths at higher frequencies since the free spectrum is located at such frequencies (mm Wave above 24 GHz in addition to sub 6 GHz).
In urban areas, Multipath Effects (signals traveling different paths, arriving at different times) cause erroneous results in computing signal time. Higher bandwidth signals will help resolve this issue since such signals will have shorter time. Added to that is the advantage of more base stations to maintain coverage, as high frequency signals are more prone to propagation losses. This Network Densification will increase the Line of Sight (LoS), enabling highly accurate Time of Arrival (ToA) estimation. Introduction of Antenna Arrays with beamforming capabilities will enable accurate enable of Direction of Arrival (DoA) estimation.
Evolution of Standards & Applications
3GPP (3rd Generation Partnership Project) is focusing on enhancing not only the standards but also the including newer applications of Location Based Services.
As an example, Public Safety applications will be enhanced to include safety of first responders in the field by computing the data and location from their wearables. Device-to-device communication that may allow devices to determine their positions relative to each other will be another use case for autonomous vehicles.
The first set of specifications in Release 16 are due to be published in June 2020 by 3GPP. A snapshot of the current considerations is indicative of the applications and enhancements.
Table 1: Source 3GPP TR 22.872 V2.0.0 (2018-05)